Plating blocks are the basic building blocks for any ships or bases. They are your main blocks for any form of construction.
Light blocks are the lightest of the 3 block types. The advantage is they weigh less making the ship lighter overall but they also have the least health.
Aluminium Blocks provide the same health as Iron making them just as tough. However they weigh less making them overall a better ship material then iron.
Light Aluminium Block

Name

Light Aluminium Block

Mass

1

Size

1x1x1

Drill power required

2

Health

12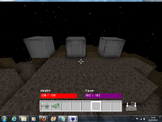 Ad blocker interference detected!
Wikia is a free-to-use site that makes money from advertising. We have a modified experience for viewers using ad blockers

Wikia is not accessible if you've made further modifications. Remove the custom ad blocker rule(s) and the page will load as expected.